David Jon Kassan was in town this week to lead a workshop at Manifest Drawing Center, an excellent and very serious establishment. If you don't know his work, check out http://davidkassan.com/ He is very well known, one of the "Masters" in the "Weekend with the Masters". Here he is painting the model. Sorry for the overexposure of her face; she had very interesting features.
The most amazing thing in the evening's four hour demo was to see the way he blocked in the features quickly with black pan pastel and a soft, sponge covered small trowel shaped tool. In about 10 minutes he had all the large darks in place and a good likeness. No measuring, no box, no envelope, no angles, just a direct confident placement. Next he used an eraser--one of the pencil shaped hard erasers--to remove some of the darks and modify some of the values. From then on, for the next 3 1/2 hours, he refined. At the first break, here's what he had:
For most of us there, this would have been the result of a long life session. <<sigh....>>. As he continued, he talked, darkened some areas, constantly made small corrections to proportions of the individual features. Here's what he didn't do: he never stepped back, he never measured anything, he never checked any angles. He squinted (he told us) a lot, he looked through binoculars constantly, even though he was only about 6 feet from the model. (I'm going to get me a good telescope this week!) At 9:59 pm he signed it: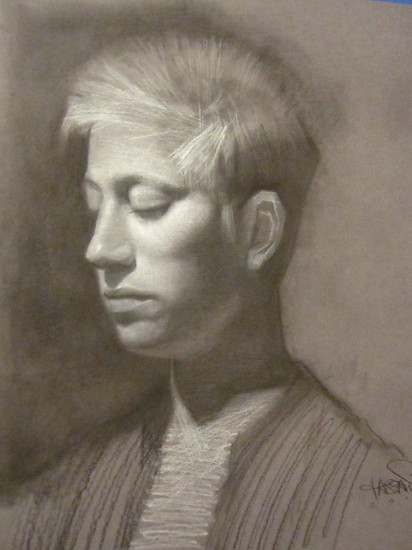 We were all mightily impressed, and some of were a bit depressed, at this display of incredible drawing dexterity. For myself, I resolve to look harder, see better, and draw with more accuracy and directness. Personally, I wish he had left her ear the way it was at the first stage, but what do I know?