My studio is a disaster.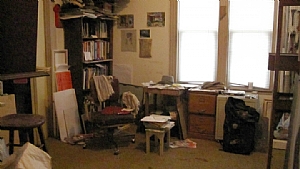 It is a spare bedroom in the front of my house, with two windows facing south. 12 feet deep by 15 feet wide, but with a 12 foot long, 4 foot closet along one wall. That's a walk-in closet, but at the moment its more like a look-in closet since I can't actually get too far into it. Worst of all is a once mustard colored wall-to-wall carpet that has been there since we moved in, 25 years ago. And the last 6 years of intensive pastels mean that it is clogged with dust. Ugh. Don't anyone tell the board of heath, please.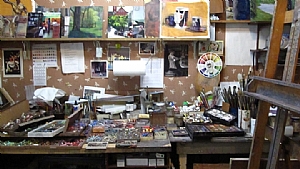 So, the time has come to do something about it. I have come to grips with the likelihood that I will not be able to have a studio outside of my home. We are committed to staying a one-car couple and we have that extra room. At the moment I can afford to hire a friend to help me with the work, and though I don't really, truly have the time, I probably never will really, truly have the time.
So, join me in the next week or so. Oh, I hope not much more than a week, but Ray's Rule #1 states "Everything always takes longer". The corollary is "Everything is always harder than". I'll post up pictures and descriptions as work progresses. Everyone, keep your fingers crossed for me!